2019! I am so ready for a new year. New years mean new beginnings, new opportunities, new books to read. After reading my favorite books in 2018, my 2019 list is ever-growing. From January to March, my list already comprises of more than 20 books. From fantasy to historical fiction to romance, here are the books I am looking forward to read in the first quarter of the year.
The Wicked King by Holly Black (Jan. 8, 2019)
You must be strong enough to strike and strike and strike again without tiring.
The first lesson is to make yourself strong.
After the jaw-dropping revelation that Oak is the heir to Faerie, Jude must keep her younger brother safe. To do so, she has bound the wicked king, Cardan, to her, and made herself the power behind the throne. Navigating the constantly shifting political alliances of Faerie would be difficult enough if Cardan were easy to control. But he does everything in his power to humiliate and undermine her even as his fascination with her remains undiminished.
When it becomes all too clear that someone close to Jude means to betray her, threatening her own life and the lives of everyone she loves, Jude must uncover the traitor and fight her own complicated feelings for Cardan to maintain control as a mortal in a Faerie world.
Add this story to your Goodreads list.
White Stag by Kara Barbieri (Jan. 8, 2019)
As the last child in a family of daughters, seventeen-year-old Janneke was raised to be the male heir. While her sisters were becoming wives and mothers, she was taught to hunt, track, and fight. On the day her village was burned to the ground, Janneke—as the only survivor—was taken captive by the malicious Lydian and eventually sent to work for his nephew Soren.
Janneke's survival in the court of merciless monsters has come at the cost of her connection to the human world. And when the Goblin King's death ignites an ancient hunt for the next king, Soren senses an opportunity for her to finally fully accept the ways of the brutal Permafrost. But every action he takes to bring her deeper into his world only shows him that a little humanity isn't bad—especially when it comes to those you care about.
Through every battle they survive, Janneke's loyalty to Soren deepens. After dangerous truths are revealed, Janneke must choose between holding on or letting go of her last connections to a world she no longer belongs to. She must make the right choice to save the only thing keeping both worlds from crumbling.
Add this story to your Goodreads list.
Echo North by Joanna Ruth Meyer (Jan. 15, 2019)
Echo Alkaev's safe and carefully structured world falls apart after her father leaves for the city and mysteriously disappears. Believing he is lost forever, Echo is shocked to find him half-frozen in the winter forest six months later, guarded by a strange talking wolf—the same creature who attacked her as a child. The wolf presents Echo with an offer: for her to come and live with him for a year. But there is more to the wolf than Echo realizes.
In his enchanted house beneath a mountain, Echo discovers centuries-old secrets, a magical library full of books-turned-mirrors, and a young man named Hal who is trapped inside of them. As the year ticks by, Echo must solve the mystery of the wolf's enchantment before her time is up—otherwise Echo, the wolf, and Hal will be lost forever.
Add this story to your Goodreads list.
The Gilded Wolves by Roshani Chokshi (Jan. 15, 2019)
Paris, 1889: The world is on the cusp of industry and power, and the Exposition Universelle has breathed new life into the streets and dredged up ancient secrets. In this city, no one keeps tabs on secrets better than treasure-hunter and wealthy hotelier, Séverin Montagnet-Alarie. But when the all-powerful society, the Order of Babel, seeks him out for help, Séverin is offered a treasure that he never imagined: his true inheritance.
To find the ancient artifact the Order seeks, Séverin will need help from a band of experts: An engineer with a debt to pay. A historian who can't yet go home. A dancer with a sinister past. And a brother in all but blood, who might care too much.
Together, they'll have to use their wits and knowledge to hunt the artifact through the dark and glittering heart of Paris. What they find might change the world, but only if they can stay alive.
Add this story to your Goodreads list.
All Is Fair by Dee Garretson (Jan. 22, 2019)
When Lady Mina Tretheway receives a telegram at boarding school, she doesn't want to read it. In 1918, with war raging, she dreads telegrams, knowing they never bring good news.
At first she doesn't understand the cryptic message. Then she realizes it's written in code, and the message leads her home to Hallington Manor. When Lord Andrew Graham appears with a dashing young American, Lucas Mueller, Mina learns that the two of them must work together on dangerous project for the war effort.
Thinking Mina is just a spoiled aristocrat, Lucas tries to complete the project alone, fearing her inexperience will give them away. But when the project goes very wrong, Mina and Lucas are thrown together to complete the mission before more soldiers disappear into the darkness of war.
Add this story to your Goodreads list.
A Curse So Dark and Lonely by Brigid Kemmerer (Jan. 29, 2019)
Fall in love, break the curse.
It once seemed so easy to Prince Rhen, the heir to Emberfall. Cursed by a powerful enchantress to repeat the autumn of his eighteenth year over and over, he knew he could be saved if a girl fell for him. But that was before he learned that at the end of each autumn, he would turn into a vicious beast hell-bent on destruction. That was before he destroyed his castle, his family, and every last shred of hope.
Nothing has ever been easy for Harper Lacy. With her father long gone, her mother dying, and her brother barely holding their family together while constantly underestimating her because of her cerebral palsy, she learned to be tough enough to survive. But when she tries to save someone else on the streets of Washington, DC, she's instead somehow sucked into Rhen's cursed world.
Break the curse, save the kingdom.
A prince? A monster? A curse? Harper doesn't know where she is or what to believe. But as she spends time with Rhen in this enchanted land, she begins to understand what's at stake. And as Rhen realizes Harper is not just another girl to charm, his hope comes flooding back. But powerful forces are standing against Emberfall . . . and it will take more than a broken curse to save Harper, Rhen, and his people from utter ruin.
Add this story to your Goodreads list.
Enchantée by Gita Trelease (Feb. 5, 2019)
Paris in 1789 is a labyrinth of twisted streets, filled with beggars, thieves, revolutionaries—and magicians…
When smallpox kills her parents, Camille Durbonne must find a way to provide for her frail, naive sister while managing her volatile brother. Relying on petty magic—la magie ordinaire—Camille painstakingly transforms scraps of metal into money to buy the food and medicine they need. But when the coins won't hold their shape and her brother disappears with the family's savings, Camille must pursue a richer, more dangerous mark: the glittering court of Louis XVI and Marie Antoinette.
With dark magic forbidden by her mother, Camille transforms herself into the 'Baroness de la Fontaine' and is swept up into life at the Palace of Versailles, where aristocrats both fear and hunger for la magie. There, she gambles at cards, desperate to have enough to keep herself and her sister safe. Yet the longer she stays at court, the more difficult it becomes to reconcile her resentment of the nobles with the enchantments of Versailles. And when she returns to Paris, Camille meets a handsome young balloonist—who dares her to hope that love and liberty may both be possible.
But la magie has its costs. And when Camille loses control of her secrets, the game she's playing turns deadly. Then revolution erupts, and she must choose—love or loyalty, democracy or aristocracy, freedom or magic—before Paris burns…
Add this story to your Goodreads list.
Stolen Time by Danielle Rollins (Feb. 5, 2019)
Seattle, 1913 // Dorothy is trapped. Forced into an engagement to a wealthy man just so she and her mother can live comfortably for the rest of their days, she'll do anything to escape. Including sneaking away from her wedding and bolting into the woods to disappear.
New Seattle, 2077 // Ash is on a mission. Rescue the professor—his mentor who figured out the secret to time travel—so together they can put things right in their devastated city. But searching for one man means endless jumps through time with no guarantee of success.
When Dorothy collides with Ash, she sees it as her chance to start fresh—she'll stow away in his plane and begin a new life wherever they land. Then she wakes up in a future that's been ripped apart by earthquakes and floods; where vicious gangs rule the submerged city streets and a small group of intrepid travelers from across time are fighting against the odds to return things to normal. What Dorothy doesn't know is that she could hold the key to unraveling the past—and her arrival may spell Ash's ultimate destruction.
Add this story to your Goodreads list.
Dark of the West by Joanna Hathaway (Feb. 5, 2019)
Aurelia Isendare is a princess of a small kingdom in the North, raised in privilege but shielded from politics as her brother prepares to step up to the throne. Halfway around the world, Athan Dakar, the youngest son of a ruthless general, is a fighter pilot longing for a life away from the front lines. When Athan's mother is shot and killed, his father is convinced it's the work of his old rival, the Queen of Etania—Aurelia's mother. Determined to avenge his wife's murder, he devises a plot to overthrow the Queen, a plot which sends Athan undercover to Etania to gain intel from her children.
Athan's mission becomes complicated when he finds himself falling for the girl he's been tasked with spying upon. Aurelia feels the same attraction, all the while desperately seeking to stop the war threatening to break between the Southern territory and the old Northern kingdoms that control it—a war in which Athan's father is determined to play a role. As diplomatic ties manage to just barely hold, the two teens struggle to remain loyal to their families and each other as they learn that war is not as black and white as they've been raised to believe.
Add this story to your Goodreads list.
The Cerulean by Amy Ewing (Feb. 5, 2019)
Sera has always felt as if she didn't belong among her people, the Cerulean. She is curious about everything and can't stop questioning her three mothers, her best friend, Leela, and even the High Priestess. Sera has longed for the day when the tether that connects her City Above the Sky to the earthly world below finally severs and sends the Cerulean to a new planet.
But when Sera is chosen as the sacrifice to break the tether, she doesn't know what to feel. To save her City, Sera must throw herself from its edge and end her own life. But something goes wrong and she survives the fall, landing in a place called Kaolin. She has heard tales about the humans there, and soon learns that the dangers her mothers warned her of are real. If Sera has any hope to return to her City, she'll have to find the magic within herself to survive.
Add this story to your Goodreads list.
Lady Smoke (Ash Princess Trilogy #2) by Laura Sebastian (Feb. 5, 2019)
The Kaiser murdered Theodosia's mother, the Fire Queen, when Theo was only six. He took Theo's country and kept her prisoner, crowning her Ash Princess–a pet to toy with and humiliate for ten long years. That era has ended. The Kaiser thought his prisoner weak and defenseless. He didn't realize that a sharp mind is the deadliest weapon.
Theo no longer wears a crown of ashes. She has taken back her rightful title, and a hostage–Prinz Soren. But her people remain enslaved under the Kaiser's rule, and now she is thousands of miles away from them and her throne.
To get them back, she will need an army. Only, securing an army means she must trust her aunt, the dreaded pirate Dragonsbane. And according to Dragonsbane, an army can only be produced if Theo takes a husband. Something an Astrean Queen has never done.
Theo knows that freedom comes at a price, but she is determined to find a way to save her country without losing herself.
Add this story to your Goodreads list.
Crown of Feathers by Nicki Pau Preto (Feb. 12, 2019)
I had a sister, once…
In a world ruled by fierce warrior queens, a grand empire was built upon the backs of Phoenix Riders—legendary heroes who soared through the sky on wings of fire—until a war between two sisters ripped it all apart.
I promised her the throne would not come between us.
Sixteen years later, Veronyka is a war orphan who dreams of becoming a Phoenix Rider from the stories of old. After a shocking betrayal from her controlling sister, Veronyka strikes out alone to find the Riders—even if that means disguising herself as a boy to join their ranks.
But it is a fact of life that one must kill or be killed. Rule or be ruled.
Just as Veronyka finally feels like she belongs, her sister turns up and reveals a tangled web of lies between them that will change everything. And meanwhile, the new empire has learned of the Riders' return and intends to destroy them once and for all.
Sometimes the title of queen is given. Sometimes it must be taken.
Add this story to your Goodreads list.
Spectacle by Jodie Lynn Zdrok (Feb. 12, 2019)
Paris, 1887.
Sixteen-year-old Nathalie Baudin writes the daily morgue column for Le Petit Journal. Her job is to summarize each day's new arrivals, a task she finds both fascinating and routine. That is, until the day she has a vision of the newest body, a young woman, being murdered–from the perspective of the murderer himself.
When the body of another woman is retrieved from the Seine days later, Paris begins to buzz with rumors that this victim may not be the last. Nathalie's search for answers sends her down a long, twisty road involving her mentally ill aunt, a brilliant but deluded scientist, and eventually into the Parisian Catacombs. As the killer continues to haunt the streets of Paris, it becomes clear that Nathalie's strange new ability may make her the only one who can discover the killer's identity–and she'll have to do it before she becomes a target herself.
Add this story to your Goodreads list.
The Priory of the Orange Tree by Samantha Shannon (Feb. 26, 2019)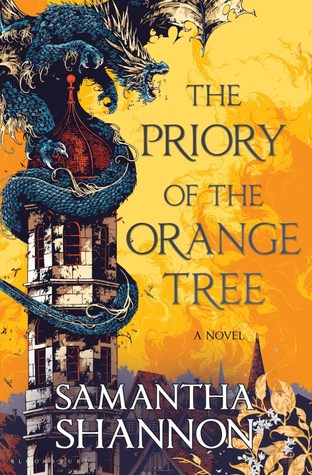 A world divided.
A queendom without an heir.
An ancient enemy awakens.
The House of Berethnet has ruled Inys for a thousand years. Still unwed, Queen Sabran the Ninth must conceive a daughter to protect her realm from destruction—but assassins are getting closer to her door.
Ead Duryan is an outsider at court. Though she has risen to the position of lady-in-waiting, she is loyal to a hidden society of mages. Ead keeps a watchful eye on Sabran, secretly protecting her with forbidden magic.
Across the dark sea, Tané has trained all her life to be a dragonrider, but is forced to make a choice that could see her life unravel.
Meanwhile, the divided East and West refuse to parley, and forces of chaos are rising from their sleep.
Add this story to your Goodreads list.
Four Dead Queens by Astrid Scholte (Feb. 26, 2019)
A divided nation. Four Queens. A ruthless pickpocket. A noble messenger. And the murders that unite them.
​
Get in quick, get out quicker.
These are the words Keralie Corrington lives by as the preeminent dipper in the Concord, the central area uniting the four quadrants of Quadara. She steals under the guidance of her mentor Mackiel, who runs a black market selling their bounty to buyers desperate for what they can't get in their own quarter. For in the nation of Quadara, each quarter is strictly divided from the other. Four queens rule together, one from each region:
Toria: the intellectual quarter that values education and ambition
Ludia: the pleasure quarter that values celebration, passion, and entertainment
Archia: the agricultural quarter that values simplicity and nature
Eonia: the futurist quarter that values technology, stoicism and harmonious community
When Keralie intercepts a comm disk coming from the House of Concord, what seems like a standard job goes horribly wrong. Upon watching the comm disks, Keralie sees all four queens murdered in four brutal ways. Hoping that discovering the intended recipient will reveal the culprit – information that is bound to be valuable bartering material with the palace – Keralie teams up with Varin Bollt, the Eonist messenger she stole from, to complete Varin's original job and see where it takes them.
Add this story to your Goodreads list.
Last of Her Name by Jessica Khoury (Feb. 26, 2019)
Sixteen years ago, rebellion swept the galaxy known as the Belt of Jewels. Every member of the royal family was murdered–down to their youngest child, Princess Anya–and the Union government rose in its place. But Stacia doesn't think much about politics. She spends her days half-wild, rambling her father's vineyard with her closest friends, Clio and Pol.
That all changes the day a Union ship appears in town, carrying the leader of the Belt himself, the Direktor Eminent. The Direktor claims that Princess Anya is alive, and that Stacia's sleepy village is a den of empire loyalists, intent on hiding her. When Stacia is identified as the lost princess, her provincial home explodes into a nightmare.
Pol smuggles her away to a hidden escape ship in the chaos, leaving Clio in the hands of the Union. With everything she knows threading away into stars, Stacia sets her heart on a single mission. She will find and rescue Clio, even with the whole galaxy on her trail.
Add this story to your Goodreads list.
Lovely War by Julie Berry (March 5, 2019)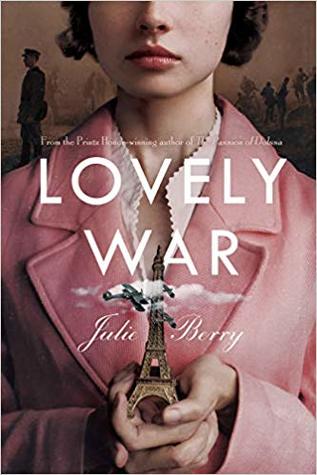 It's 1917, and World War I is at its zenith when Hazel and James first catch sight of each other at a London party. She's a shy and talented pianist; he's a newly minted soldier with dreams of becoming an architect. When they fall in love, it's immediate and deep–and cut short when James is shipped off to the killing fields.
Aubrey Edwards is also headed toward the trenches. A gifted musician who's played Carnegie Hall, he's a member of the 15th New York Infantry, an all-African-American regiment being sent to Europe to help end the Great War. Love is the last thing on his mind. But that's before he meets Colette Fournier, a Belgian chanteuse who's already survived unspeakable tragedy at the hands of the Germans.
Thirty years after these four lovers' fates collide, the Greek goddess Aphrodite tells their stories to her husband, Hephaestus, and her lover, Ares, in a luxe Manhattan hotel room at the height of World War II. She seeks to answer the age-old question: Why are Love and War eternally drawn to one another? But her quest for a conclusion that will satisfy her jealous husband uncovers a multi-threaded tale of prejudice, trauma, and music and reveals that War is no match for the power of Love.
Add this story to your Goodreads list.
The Queen's Resistance (The Queen's Rising #2) by Rebecca Ross (March 5, 2019)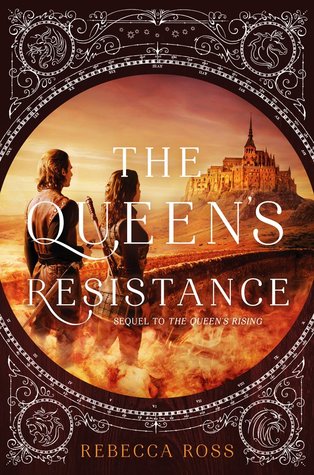 Finally, Brienna is a mistress of knowledge and is settling into her role as the daughter of Davin MacQuinn, a disgraced lord who returned to Maevana to reclaim his house. Though she'd just survived a revolution, one that will finally return a queen to the throne, she faces another difficult challenge. She must prove herself trustworthy to the MacQuinns. But as Queen Isolde Kavanagh's closest confidant, she'll have to balance serving her father's house as well as her country. And then there's Cartier, a wholly separate but desirable factor in her new life.
Aodhan Morgane, formerly known as Cartier Évariste, is adjusting to the stark contrast between his pre-rebellion life in Valenia as a master of knowledge and his current one as the lord of a fallen house. During his castle's restoration, he discovers a ten-year-old boy named Tomas, whose past and parentage are a complete mystery. So when Cartier's former pupil Brienna is as taken with Tomas as he is, he lets his mind wander—what if he doesn't have to raise him or his house alone?
As the Lannon trial rapidly approaches, Brienna and Cartier must put their feelings aside to concentrate on forging alliances, executing justice, and ensuring that no one interferes with the queen's coronation. But resistance is rumbling among the old regime's supporters, who are desperate to find a weakness in the rebels' forces. And nothing makes a person more vulnerable than deep-seated love.
Add this story to your Goodreads list.
The Everlasting Rose (The Belles #2) by Dhonielle Clayton (March 5, 2019)
In this sequel to the instant New York Times bestseller, Camille, her sister Edel, and her guard and new love Remy must race against time to find Princess Charlotte. Sophia's Imperial forces will stop at nothing to keep the rebels from returning Charlotte to the castle and her rightful place as queen. With the help of an underground resistance movement called The Iron Ladies-a society that rejects beauty treatments entirely-and the backing of alternative newspaper The Spider's Web, Camille uses her powers, her connections and her cunning to outwit her greatest nemesis, Sophia, and restore peace to Orleans.
Add this story to your Goodreads list.
Children of Virtue and Vengeance (Legacy of Orïsha #2) by Tomi Adeyemi (March 5, 2019)
After battling the impossible, Zélie and Amari have finally succeeded in bringing magic back to the land of Orïsha. But the ritual was more powerful than they could've imagined, reigniting the powers of not only the maji, but of nobles with magic ancestry, too.
Now, Zélie struggles to unite the maji in an Orïsha where the enemy is just as powerful as they are. But when the monarchy and military unite to keep control of Orïsha, Zélie must fight to secure Amari's right to the throne and protect the new maji from the monarchy's wrath.
With civil war looming on the horizon, Zélie finds herself at a breaking point: she must discover a way to bring the kingdom together or watch as Orïsha tears itself apart.
Add this story to your Goodreads list.
Sherwood by Meagan Spooner (March 19, 2019)
Robin of Locksley is dead.
When news comes that he's fallen in battle at the King's side in the Holy Land, Maid Marian doesn't know how she'll go on. Betrothed to Robin, she was free to be herself, to flout the stifling rules of traditional society and share an equal voice with her beloved when it came to caring for the people of her land.
Now Marian is alone, with no voice of her own. The people of Locksley, persecuted by the Sheriff of Nottingham, are doomed to live in poverty or else face death by hanging. The dreadful Guy of Gisborne, the Sherriff's right hand, wishes to step into Robin's shoes as Lord of Locksley, and Marian's fiancé. Society demands that she accept her fate, and watch helplessly as her people starve.
When Marian dons Robin's green cloak, and takes up his sword and bow, she never intended that anyone should mistake her for Robin, returned from the Holy Land as a vigilante. She never intended that the masked, cloaked figure she created should stand as a beacon of hope and justice to peasant and noble alike. She never intended to become a legend.
But all of Nottingham is crying out for a savior. So Marian must choose to make her own fate and become her own hero…
Robin Hood.
Add this story to your Goodreads list.
What books are you looking forward to in 2019? Are any of these on your Goodreads list? Let me know in the comments below or on my social media pages!
Thanks for stopping by!
MG, Media Gal Reads